The Screen Room closed in early 2011.
I still receive so many queries about the cinema, so I have tried on this page to answer some of the more frequently asked questions.
History
The Screen Room cinema was opened in September 2002 and closed in early 2011. It was owned by Steven Metcalf and run by Stephen Jones along with the help of many volunteers.
The cinema had a single screen and just 21 seats and it was recognised by Guinness World Records as the smallest in the World by seat capacity.
Our programme consisted mostly of current independent and arthouse releases.  We would usually play films about two months after they were first released in the cinemas but before they came out on dvd. We occasionally played older cult or classic films – you can see our old programmes here.
The Screen Room was open all-year-round and 7-days-a-week. We had two screenings per evening and often one or two screenings in the afternoon as well.
Projection
We were able to play dvd and blu-ray, but the vast majority of our films were projected on 35mm film on a Kalee-21 projector.
The size of our screen varied depending on the aspect-ratio of the film being played but was approximately 4ft x 8ft.
Funding
The Screen Room was a completely privately owned and run venture. We didn't receive funding from anyone, except from our customers through ticket sales. We also were not affiliated in any way with the Broadway cinema which was just a bit further down the road on Broad Street.
A few people have asked if you needed to be a member to watch a film at the Screen Room but that wasn't the case, anyone could walk off the street and buy a ticket as long as we weren't fully booked.
Why did you close?
First and foremost, we closed because our lease came to an end. We didn't own the building, the Screen Room signed a 9 year lease in late 2001, which ended at the beginning of 2011. I'm sure if we had signed a 10 year lease we would have stayed open for another year. But when a lease comes to an end it is obviously time to decide if you want to commit yourself to another x years. I think our 2 main concerns were-
1. The condition of the building – the building was old when we moved in and (like the best of us) has only got older. Thinking about the years to come, we had serious concerns that the building would start to become unsafe and we would be lumbered with some really quite major repair jobs costing many thousands of pounds.
2. The changes happening in cinema – 35mm is being replaced by digital projection. There is pressure to reduce or even abolish the 4 month window between the theatrical and dvd release of a film. Illegal copying, downloading and filesharing of films may well increase as both hard-drive sizes and broadband speeds go up. And home cinema equipment, including projectors, are getting better and cheaper allowing more and more people to create a "Screen Room" in their spare room.
I don't know how all these trends will play out over the coming years (I don't think anyone does) but it was uncertainty, as opposed to out-and-out pessimism, that made us nervous about committing to a long term future for the Screen Room.
I hope this also answers the many people who got in touch suggesting we should have sought funding or publicity to "save the Screen Room". If it was a few thousand pounds for renovations – that might have made sense, but those would be renovations on a building we didn't even own.
I suppose what we really would have needed was money to buy the building we occupied, then money to renovate it and enough change leftover to buy a digital projector. This would obviously come to a few hundred thousand pounds and I doubt there is anyone rich or foolish enough to give it to us, not least because even with those investments we would be no better off in terms of making money day-to-day, we would merely have protected ourselves from some (but not all) of the possible problems a few years down the road.
It was obviously a hugely difficult decision to stop, personally the Screen Room had been my life for nearly a decade and returning the keys was a very sad day indeed, but I'm still sure it was the right choice to close when we did – far better to move on when things are going well than to hang around for a time when they aren't.
One thing I would add is that Nottingham has absolutely no shortage of cinemas even after we are gone. Broadway has 4 screens and is 30 seconds walk away and Cineworld is 5 minutes away. Both the Savoy cinema and the Showcase are just a short journey out from the city centre.
I find it much sadder to read about towns or communities struggling to save their single cinema from closing, epecially when it's a journey of many hours to the next one. I hope very much that any funding that exists will find its way to cinemas in this situation.
Left-overs 
Several people have asked if there is any equipment from the Screen Room available for free or for sale. I'm afraid not, the majority of the equipment/seats/posters etc have either been sold or given away. Very little was actually thrown away and most of the stuff has found a loving new home away from the Screen Room.
Carrot Cake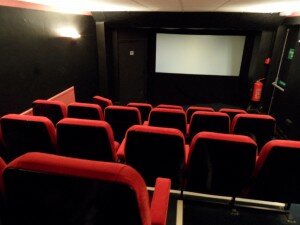 As the cinema was so small we tried to keep noisy foods like popcorn and crisps to a minium and we would sell chocolate cake and carrot cake as an alternative. They were extremely popular and I've had a huge number of people suffering what seem to be withdrawal symptoms asking where we got our cake from. It was made by Screaming Carrot, their shop is a short way out of Nottingham city centre in Forest Fields but they may well still supply other shops and cafes in town.
Lease
As will also be the case for most bars, shops and restaurants in town, we didn't own the building we occupied, the Screen Room signed a lease and paid rent to the landlord of the premises. The landlord was not involved in owning or running the business.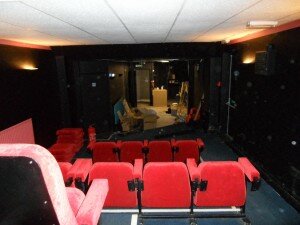 I don't know what is happening with the building now or if it is available to rent or up for sale. If you have enquiries about this, I suggest you write to our former landlord (Mr Rathour) at our former address (25 Broad Street, Nottingham, NG1 3AP) and it should hopefully find its way to him.
For those of you who have asked my advice about moving into these premises I would just point out the obvious - which is that it is an old building, so be sure to get a proper surveyor's report done and a "schedule of condition" attached to your lease.
Unlike a residential tenant, a commercial tenant can often be required to restore a building to a condition better than that they found it in, so be sure to take legal advice regarding your lease and understand what you would and would not be responsible for when the time comes to leave (this is probably sound advice for any commercial lease but especially for an old building).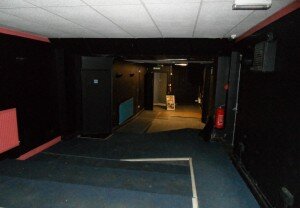 Reopening the Screen Room 
If the building is indeed still available then I imagine you would be welcome to open any kind of business you want there - bar, restaurant, laundrette, pet shop, nail salon or cinema!
To those asking for advice on opening a cinema, I have found it difficult to know what to say. I want to be encouraging, but obviously if I thought it was a great idea we would still be open today! I would be happy to help in any way I can but I suppose I would point out a few things
1. Repeat what I have already said about the condition of the building. Don't take my advice, take advice from a solicitor and a surveyor.
2. That there is absolutely nothing left of the Screen Room. As part of our lease we had to remove everything from the building when we left, so (as you can see from the pictures) if you were to go in there now you wouldn't know there had ever been a cinema there. You really would be starting from scratch I'm afraid.
3. This building was never a purpose-built cinema. One of the benefits of a small cinema is that it opens up so many more potential venues for you – so have a look around. If you want to open a 200 seat cinema you probably only have a couple of locations to choose from, if you want to open a 20 seat cinema you probably have a few hundred to choose from. Almost any empty commercial premises is a viable location because you don't need much room – just a few hundred sq ft. Look for one with high ceilings so you have room to tier the seating AND project over the top of people's heads. Think about your location and neighbours. A cinema is obviously quite sensitive to noise, so unless you want to spend a lot of money on sound insulation you would be better off being neighbours with shops and offices than with bars and flats.
4. Just finally, if you are set on opening a cinema at 25 Broad Street, I do feel it would be confusing for customers if it was called "the Screen Room". The Screen Room was a business, not a building.
Before we opened in 2002, the building was just used by the owner to store old furniture in, before that it had been a cinema called the Gallery Cine club, before that it had been a workshop and hardware store called Lord's and before that who knows…
When we closed in 2011 we quite deliberately didn't put the business up for sale and removed all our cinema equipment from the building.
The Screen Room IS reopening
I've been contacted by at least a dozen people expressing an interest in doing something and heard lots of different rumours about this ever since we closed, but I really don't know. In April 2011 I was contacted by some people who did seem further along with their plans to open a cinema at 25 Broad Street but I've not heard anything from them since so I'm not entirely sure if this is going ahead. If it is, then I absolutely wish them the very best of luck.
Just for the avoidance of any doubt, and with the hope of reducing my email inbox slightly, I should just make it clear that any new venture at 25 Broad Street would have nothing to do with anyone who owned or ran the Screen Room from 2002 – 2011. We really wouldn't want to take any credit (or any responsibility) for what goes on there anymore. Other than that, I simply don't have any more information to pass on I'm afraid – you are asking the wrong person.
Thank you
Finally, I would like to thank all those people who have sent such nice messages about how much they liked the Screen Room and how sad they were to see it close.
It has been quite wonderful to read people's stories about their visits to the cinema. Several people have told me they went on first-dates to the Screen Room with people they are now married to – one man even proposed to his girlfriend at the Screen Room (the answer was "yes" – thank Goodness!).
I'm obviously utterly biased, but I do think the Screen Room was really quite a special little place and a unique venue in which to watch a film. I would like to sincerely thank everyone for making the Screen Room what it was and wish them the very best for the future.
Steve
Manager, Screen Room cinema